Enjoying the afterglow of SXSW '17, Indonesian Indie Rock/Dream Pop band 'lightcraft' cast eyes towards the future!
lightcraft reflect on SXSW 2017 deeming it "one of the best festivals they played at so far", as well as tell us a little more about themselves, their inspirations, and the current state of Indie Indonesian music. We're really excited to share this with you all, as Indonesia is one of many often overlooked countries when it comes to music in both the mainstream and indie Asian scenes. lightcraft's sound is full of fantasy with front man Imam Wisaya Surataruna's voice being enchantingly sweet and delicate, the band's overall output worthy of the international attention they've been receiving.
Who are lightcraft and how did you all come together?

We're an indie rock/dream pop band from Jakarta, Indonesia. We first formed back in 2004 while we were all attending university in Malaysia, but we only officially became lightcraft in 2006. That same year we put out our first EP, "The Modern Seasons." We went on to release our full-length debut, "Losing Northern Lights," in 2008 and our second album, "Colours of Joy," came out in 2013. In November 2016, we released our latest EP, which is titled "Another Life".

We love sharing our music with new audiences and have toured in Indonesia, Malaysia, Singapore, Thailand, India, South Korea, Taiwan, Canada, the US, and England in the past. We actually made a return visit to the US just a few weeks ago to perform at the renowned SXSW Music Festival in Austin, Texas. It was so much fun!
The combination of rock and dream pop is interesting. What about these two genres struck a chord and encouraged you guys to take on this musical style?
It all began with an amalgamation of our various tastes in music when we first got together as a band. Our influences – which include the likes of Coldplay, Doves, Snow Patrol, Elbow and many others – inspired us to make the kind of music that we do. We didn't really plan it beforehand; it just sort of happened, and has evolved along the way.
What inspires lightcraft's music, and how do you keep that inspiration well from running dry?
We take a lot of inspiration from life in general – what happens in our own respective lives and what happens around us and across the world. We feel that each person's life is a film waiting to be produced, and we try to mine that for inspiration. We do this with the people who revolve around us and those that we don't even know. And love, of course! We're inspired by that too.
What was it that made people start to notice lightcraft? When did you all begin to really get popular?
We're not sure we're that popular! We think what makes us stand out are our forays abroad and the effort that we put in to ensure that we are able to continue to keep gigging internationally. And our music as well, of course, which is kind of unique in a way.
Korea and Japan have popular indie scenes internationally but Indonesia (and South East Asia in general) is still an up-and-comer. What about lightcraft sets you guys apart and made the band attractive to a festival like SXSW?
Again, we think that the hard work that we have put in, our distinctive sound, and our international profile are probably what caught the eye of SXSW and other international festivals we've been a part of. At least we hope that's what it was!
Is there a big indie music scene in Indonesia? How's the general music landscape there?

It is very big and dynamic. Considering the total number of people that makes up our population, we have so many bands and artists who are competing for the same slice of pie. And quite a lot of them have the potential to make it big not just in Indonesia, but also around the world. We may lack quality venues, but we make up for it with the number of top-notch acts. However, this creates a problem as we do not have that many places to play a proper show.
Pros and cons of working as indie musicians? Are there any Indonesian-specific troubles or benefits you guys have experienced?

We all have day jobs, so that makes it hard for us to go out on tour on a regular basis. We have to schedule tours meticulously in order for our music career to be able to go hand in hand with our jobs. And then of course there are financial constraints. Some of us have families to support and care for, so it can be quite a challenge to manage our time and money. However, as indie musicians we have all the freedom in the world to do whatever we want with our band and our music, so we have the license to write songs as we see fit.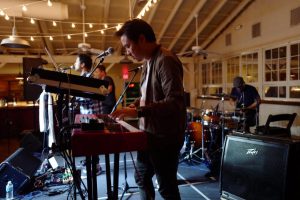 How was SXSW? Did the band have any fun/crazy experiences while in Austin?

SXSW was amazing! It was easily one of the best festivals that we have played at so far, and it is obviously one of the most prestigious considering its size and reputation. We went to quite a few panels and mentor sessions to meet luminaries from the global music market, which really enriched us a great deal and provided us with insights into how to take things up a notch as a band. The bands we saw perform were all amazing, especially the ones that we shared the stage with. We still can't believe that we played the same stage on the same night with Satellite Stories, and we also got to see GoGo Penguin, Minus the Bear and Temples as well. The craziest experience that we had was almost getting stampeded by a huge flock of people who suddenly ran towards 6th Street.
What future activities can we look forward to from you guys?

We're currently preparing material for a new album, which we plan to release late this year or early in 2018. We've been road-testing songs for quite a while now, and the response has been great, so it will be great to get into the studio to start recording them. We also have a few festival appearances that we're hoping to confirm soon, along with plans for a couple of tours. Fingers crossed that everything comes together!
—
lightcraft's 2016 EP Another Life is available now on Bandcamp! Peep below for links on where to follow! Much thanks to lightcraft for their time!
lightcraft's website and social media channels:
Official Website – www.lightcraftmusic.com
Twitter + Instagram @lightcraftmusic
Facebook – facebook.com/lightcraftmusic
SoundCloud – soundcloud.com/lightcraft
YouTube – youtube.com/user/lightcraftvideos
Bandcamp – lightcraft.bandcamp.com